THE WORKSHOPS
The manufacture of an object, like its design, is an integral part of its identity, of its pedigree.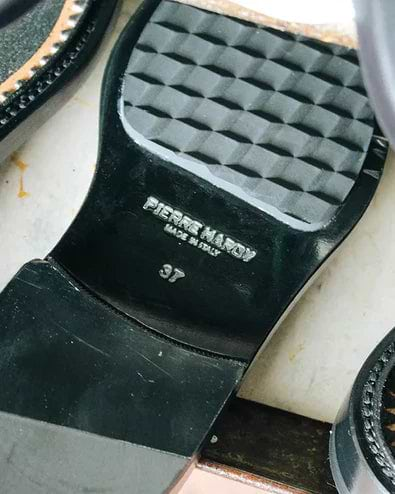 All PIERRE HARDY collections are made in Europe for shoes, and in Morocco for accessories.
These collections are produced in limited series, in workshops specializing in high-end shoes and leather goods.
Our Parisian Maison thus offers to its customers from all around the world high quality pieces, made to last.
THE SHOES IN ITALY
Almost all PIERRE HARDY shoes are made in Italy, by the best manufacturers. These have been selected for their know-how and their unique hand, which we share with other big names in French luxury. They are historical partners, rare and precious, with a highly qualified workforce, a know-how that often takes years to acquire and sometimes a lifetime to master. Their multiple skills as well as their long years of experience allow us to offer our collections an exceptional degree of quality and comfort
Our different workshops are chosen according to their specialty: the boots are made in the Ancona region, the sandals and pumps are made in the Milan region, the cradle of Italian luxury footwear... The production is still very traditional, extremely manual from cutting to finishing. The manufacturing process of a shoe is very long. From conception to packing, it takes about six months, and depending on the model, it can take up to 120 steps.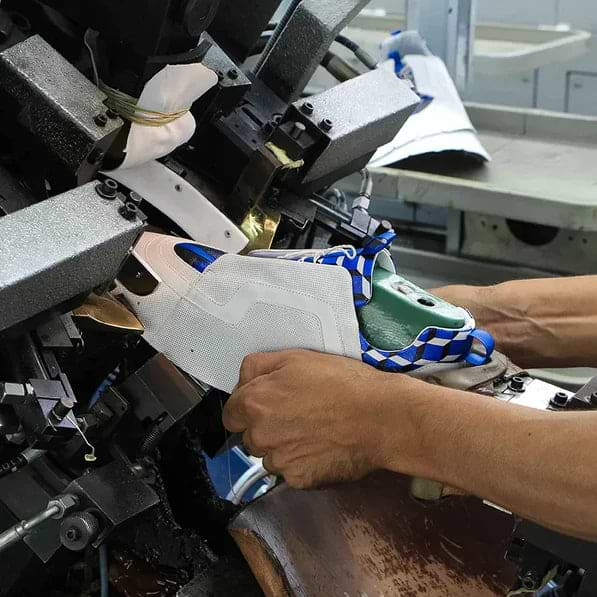 THE SNEAKERS IN PORTUGAL
Since their launch in 2006, our high-end sneakers have been made in Portugal, in a family factory located in the Guimarães region. The manufacture of sneakers combines know-how and high technology, and calls on suppliers at the forefront of innovations. This manufacturer is thus our most industrialized, most modern and most efficient partner. It is also the subcontractor of the most beautiful brands of luxury sneakers. This manufacturer has also received the HIGG certification. (The HIGG index is given by the Substainable Apparel Coalition and measures the well-being of workers, local communities and the respect of the environment.)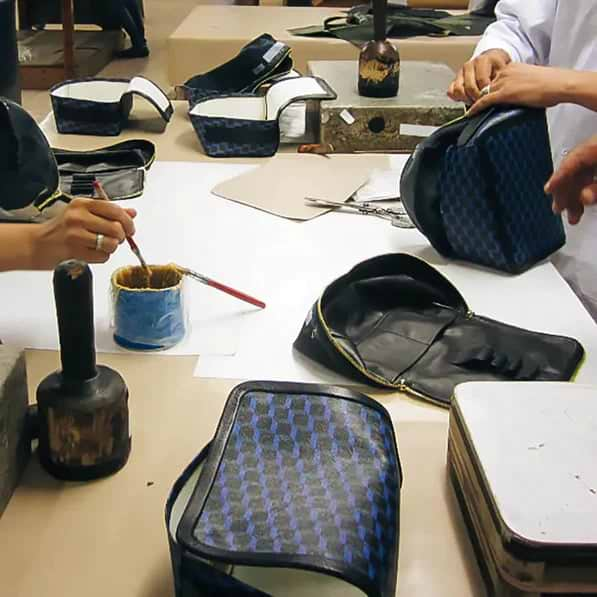 THE LEATHER GOODS IN MOROCCO
We have been working with the same manufacturer since the creation of our first collection of bags and accessories in 2006. It is located in Casablanca and specializes in luxury leather goods. It is a workshop of around forty people with artisanal processes and traditional know-how. All operations are manual, which gives a unique character to each of our products. This also allows great flexibility, which is decisive in the production of our bags with their unique design.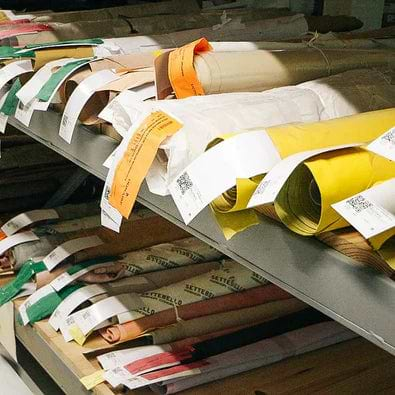 THE ITALIAN MATERIALS
PIERRE HARDY works with the most renowned Italian tanneries, suppliers of the biggest luxury brands. The leathers are always of the highest quality, with rich color ranges. Certain leathers are also exclusive and developed only for our House. The Cube Perspective coated canvas is woven and printed in Italy as well, by our supplier recognized as the canvas specialist in the luxury world.
This motif, which has become iconic, was developed in 2008. And each season, the canvas is reinterpreted to reflect the colors and themes of the collections. Our surplus materials are reused for exclusive orders and limited editions, as well as for our new eco-responsible collection PIERRE HARDY PLANET.